Posted by: Hillary Corbett
Today's News@Northeastern featured a "3Qs" interview with our Dean of Libraries, Will Wakeling. The focus was open access to research, and Will specifically highlighted Open Educational Resources (OERs).  Development of OERs involves remixing resources that are openly available in order to create learning materials that don't cost students anything. The average college student paid $700 a year on textbooks in the 2009-2010 school year; given that the price of college textbooks is said to be increasing at four times the rate of inflation, that amount is likely higher today. So, it's no surprise that the need for affordable course materials is becoming critical. Legislation such as the College Opportunity and Affordability Act has placed limits on textbook publishers, but prices are still high.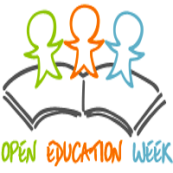 MIT was a pioneer in the OER field with their Open CourseWare system, which debuted in 2002. It offered anybody, anywhere, the opportunity to access MIT course materials for free – a radical concept at the time. Since then many other institutions around the world have also established OCW programs, as well as an international consortium. That consortium is now sponsoring the first global Open Education Week, "to raise awareness of the open education movement and its impact on teaching and learning worldwide." Events are taking place around the world this week – many being hosted as online webinars. I encourage you to check out their schedule of events!
How do you think Northeastern can play a role in the development and adoption of OERs? Leave your thoughts in the comments section…
Write / view comments
Posted in: Library News and Events, Scholarly Communications